'Sota-Style® Since 1965!
Earl "Red" Schoenheider opened the first Red's Savoy Pizza restaurant in 1965 on East 7th Street in St. Paul, Minnesota under the name "The Original Red's Savoy Pizza." He worked in the restaurant 7 days a week until the day he died in 2017.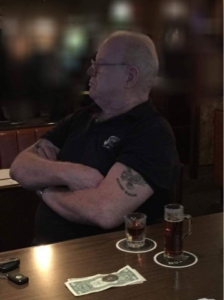 He built his business around his product, work ethic and a unique family-like experience. He spent years perfecting his own secret recipe sauce and sausage. Red piled his thin crust pizza high with quality toppings and created a product unmatched by anyone.
As a testament to Red's passion for people and product, his original restaurant developed a cult like following over five decades, making the Red's Savoy name legendary across the Midwest (and beyond!).
As the Red's Savoy Pizza brand continues to grow, we continue focusing on making 'Sota-Style® pizza with the same pride as our founder, using Red's original secret recipe sauce and sausage, piled high with the highest quality toppings on a timeless thin crust, and cut into squares. Red's Savoy Pizza locations are set apart from their competition by their simple focus on the customer and what makes the brand superior to its competition: the pizza.
Before Red died, our current owner, Reed, talked to him about his vision for the brand, where we might go, and his legacy living on. Red (always a man of few words) told Reed, "Whatever you do, don't 'mess' with my pizza." (Our lawyers said we can't use the actual word.) Reed made that promise and we continue to hold the quality of our pizza as sacred.
But it goes beyond the pizza. Red was an unpretentious, no BS guy, who built a team that took care of their customers in the same way – with transparency, a little bit of grit, and above all – a feeling of being family. Every day, in each of our stores, we strive to carry on Red's no BS, caring legacy.