WHAT ARE PULLTABS?
Pulltabs are a Minnesota tradition. You'll find them at VFWs, Legion halls, and dive bars across the state. Pulltabs are usually washed down with a few cold beers as people take their chances trying to pull some winners. At Red's Savoy Pizza, you've already hit the jackpot of pizzas. Now we're giving you a chance to win freebies on your next order! Pizza & Pulltabs, it doesn't get more 'Sota-Style than that!
HOW DO I PLAY?
We're making it simple! We're giving one pulltab with all pizza and pizza fries purchases.
There's a lot to win including FREE PIZZA FOR A YEAR!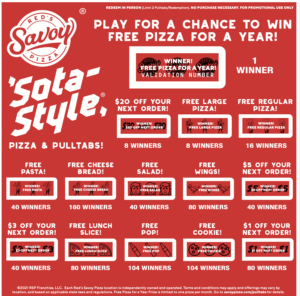 HOW DO I WIN?
Just pop open your pulltab and see what's inside!
Winners include free food items all the way up to Free Pizza for a Year!
Winner, winner, pizza dinner!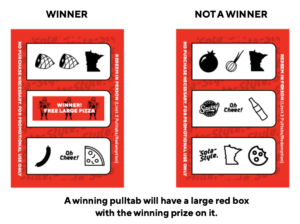 HOW DO I REDEEM?
Simply bring your winning pulltab in to a participating Red's Savoy Pizza location to redeem your offer.
Limit 2 pulltabs/redemption. Unfortunately, they can't be redeemed online.
If you have received a pulltab with Free Pizza for a Year, this cannot be redeemed in-store.  Please fill out the form below.
Questions?
Trying to redeem the grand prize or have questions about Pizza & Pulltabs?
NO PURCHASE NECESSARY. FOR PROMOTIONAL USE ONLY.
Each Red's Savoy Pizza location is independently owned and operated. Terms and conditions may apply and offerings may vary by location, and based on applicable state laws and regulations. No Cash Value. Must redeem in person. No substitutions. Not valid with other offers. Free Pizza for a Year is defined as one pizza per month for 12 months. This will be administered through a Thank You Rewards account. Promotion will terminate when these pulltabs are no longer made available. 
Receive a Pulltab Without Purchase (alternate method of entry "AMOE"): A Participant can request a Pulltab without buying a pizza at a participating Red's Savoy Pizza location by mailing a legibly handwritten, self-addressed, stamped envelope ("SASE") with sufficient postage and a return address, including first and last name, street address, city, state, and ZIP code to: RSP Pulltab Request, 574 Prairie Center Drive, Ste 135-314, Eden Prairie, MN 55344. DO NOT SEND ANY WINNING PULLTABS, COMMENTS OR QUESTIONS TO THIS ADDRESS. One Pulltab will be mailed in response to each mail-in request that complies with the requirements while supplies last. Limit one request per person per day. Outer envelope must include a return address in the upper left hand corner that matches the requestor's street address.