WHAT ARE PULLTABS?
Pulltabs are a Minnesota tradition. You'll find them at VFWs, Legion halls, and dive bars across the state. Pulltabs are usually washed down with a few cold beers as people take their chances trying to pull some winners. At Red's Savoy Pizza, you've already hit the jackpot of pizzas. Now we're giving you a chance to win freebies on your next order! Pizza & Pulltabs, it doesn't get more 'Sota-Style than that!
HOW DO I PLAY?
We're making it simple! We're giving one pulltab with all pizza and pizza fries purchases.
There's a lot to win including FREE PIZZA FOR A YEAR!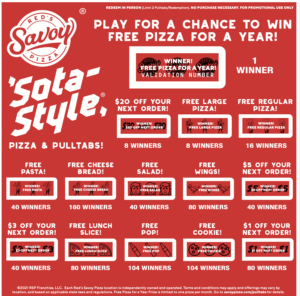 HOW DO I WIN?
Just pop open your pulltab and see what's inside!
Winners include free food items all the way up to Free Pizza for a Year!
Winner, winner, pizza dinner!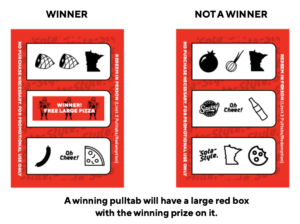 HOW DO I REDEEM?
Simply bring your winning pulltab in to a participating Red's Savoy Pizza location to redeem your offer.
Limit 2 pulltabs/redemption. Unfortunately, they can't be redeemed online.
If you have received a pulltab with Free Pizza for a Year, this cannot be redeemed in-store.  Please fill out the form below.
Questions?
Trying to redeem the grand prize or have questions about Pizza & Pulltabs?
NO PURCHASE NECESSARY. FOR PROMOTIONAL USE ONLY.