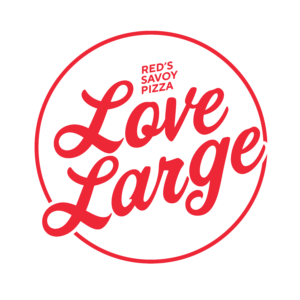 #LOVELARGE
Let's be honest: 2020 has been throwing haymakers. One after another. It's been relentless. We all feel it, and it hasn't been easy for anyone.
At Red's Savoy Pizza, we know our customers are looking to share the love, find ways to make a difference and do something positive in the world. With the introduction of the #LoveLarge program, Red's Savoy is making it easy for people to support local heroes and those in need in our communities. Any Red's Savoy customer that purchases a large pizza can donate an additional large pizza with a $10 donation. Simply add a #LoveLarge pizza on to your order, and Red's Savoy will take care of the rest.
As part of the #LoveLarge program, Red's Savoy will facilitate getting the pizzas to local heroes and families in need with deliveries to places like hospitals, nursing homes, fire departments, child care providers and more. As a local, family-run pizzeria, Red's Savoy knows people want to give back and make a difference in their communities. The #LoveLarge program is an easy way to do just that.
Know a group of local heroes or people in need?  Think they would love pizza? Tell us about it! CLICK HERE