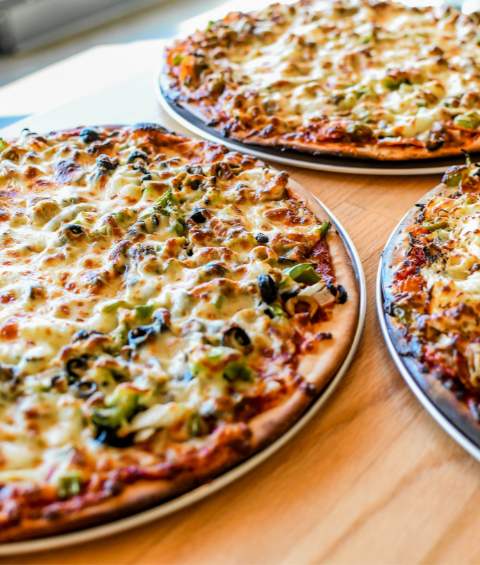 A highly anticipated addition to the Sioux City, Iowa community, Red's Savoy Pizza will open on Wednesday, November 15th. The new location is centrally located downtown at 203 Pierce Street, Sioux City.  The location will be open 11 am-9 pm daily and until 10 pm on Friday and Saturday night.
Red's Savoy Pizza is a regional pizza brand known for Sota-Style® pizza that features thin crust, family-recipe sausage, 'Passive Aggressive' sauce, mounds of cheese and toppings, cooked to crisp perfection and cut into squares. The original location opened in 1965 on the east side of Saint Paul, Minnesota by Earl "Red" Schoenheider.
"We've had such a demand from our Iowa neighbors wanting a Red's Savoy Pizza near them, we're thrilled that we could partner with our awesome franchisees to make it happen," said Reed Daniels, CEO of Red's Savoy Pizza.
Franchise owners Julie Card, John Glockner, and Chad Knudson are no strangers to the area. The new Red's Savoy location shares a building with the Famous Dave's franchise the group owns and operates.
Customers can order online, via the Red's Savoy Pizza app, by calling the store at 712-560-9485 or by walking into the storefront. Delivery will be available within the delivery area which extends approximately 37 square miles and extends to I-129 in the South, Riverside Blvd in the East, Outer Dr. N in the North, and U.S. 75 in the West.
The full menu, showcasing signature menu items and limited-time offers and specials, can be viewed online.
To unlock special offers and promotions, Siouxlanders should sign up for Red's Savoy Pizza's loyalty program, Thank You Rewards. Thank you Rewards members receive $5 off their first order, $15 to spend the week of their birthday and other special offers and promotions exclusive to members like Appy Hour. Appy Hour is an exclusive daily "happy hour" where members can get a FREE app with the purchase of a pizza from 2-5pm.
Location Hours:
Sunday-Thursday: 11am-9pm
Friday-Saturday: 11am-10pm
CLICK HERE TO ORDER ONLINE FROM THE SIOUX CITY, IA LOCATION!