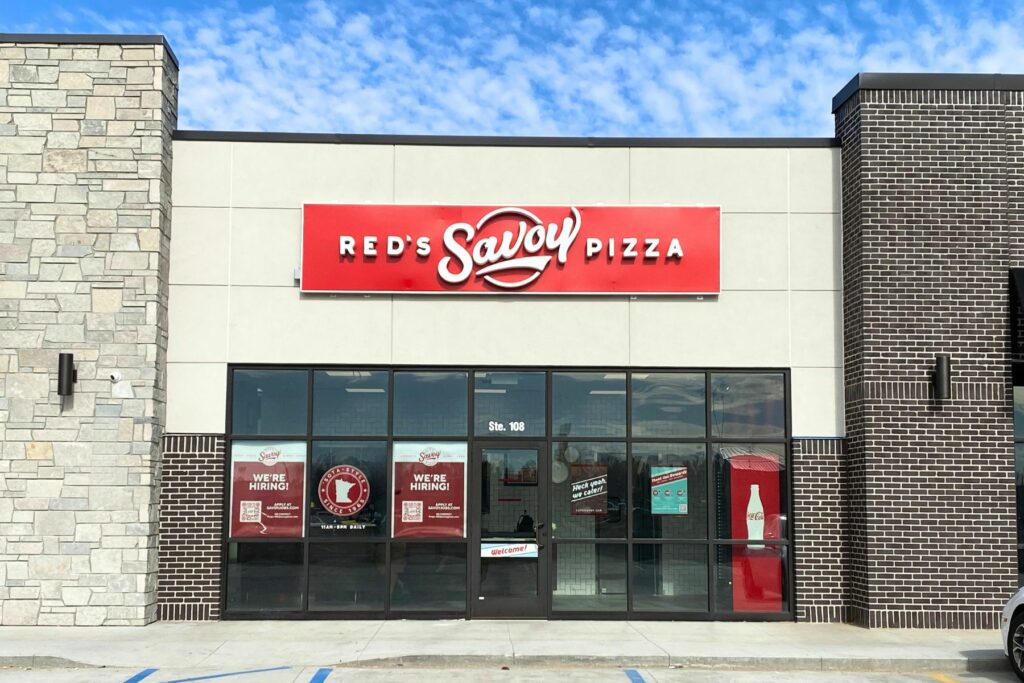 A highly anticipated addition to the Fargo, North Dakota community, Red's Savoy Pizza will open on Saturday, October 28, 2023. The new location is centrally located off I-29  at 3165 33rd Street South, Fargo, ND 58103. The location will be open 11am-8pm daily.
Red's Savoy Pizza is a regional pizza brand known for Sota-Style® pizza that features thin crust, family-recipe sausage, and 'Passive Aggressive' sauce, mounds of cheese and toppings, cooked to crisp perfection and cut into squares. The original location opened in 1965 on the east side of Saint Paul, Minnesota by Earl "Red" Schoenheider.
"With so many Minnesota transplants in the Fargo area already familiar with Red's Savoy Pizza, we're really excited to have this store open and to serve the growing and thriving Fargo community," said Reed Daniels, CEO of Red's Savoy Pizza. "Our Fargo franchise owners will do an amazing job bringing Sota-Style pizza to the area."
Franchise owners Dave Erickson and Jordan Salgat are not strangers to the community – they currently own and operate the Bulldog Tap & Cowboy Jacks – Fargo.
"Fargo needs good quality pizza and Red's Savoy Pizza is just that," said franchise owner Dave Erickson. He continued, "We look forward to serving wow-worthy  food everyday."
Customers can order online, via the Red's Savoy Pizza app, by calling the store at 701-532-2528, or by walking into the store front. While the store will not be opening with delivery, delivery will be available shortly after opening for those in the delivery territory which extends east to the river, west to Sheyenne St./170th Ave SE, north to 13th Ave SW, and south to 52nd Ave.
Menu highlights include:
A well-rounded pizza menu featuring 14" (large) and 10" (regular) specialty and create your own pizzas. The most popular specialty pizza is 'Red's House Special' which is loaded with Red's Savoy Pizza famous sausage, pepperoni, onions, mushrooms, green peppers, and green olives. Other customer favorites are the Meat Raffle, Inferno and Eastsider.
10" cheese and pepperoni Kidz Pizza with a more mild pizza sauce developed for the littlest palates.
Appetizers, salads, baked pastas, and dessert.
A 'Quick Lunch" option Monday-Friday 11am-2pm that features a "Choose Two" combo where customers can mix-and-match slices, salad, or desert to create a fantastic lunch: jumbo slice of cheese pizza, jumbo slice of pepperoni pizza, jumbo slice of sausage pizza, side salad, or seasonal pie (currently Pumpkin Cheesecake). Each 'Choose Two' combo is $12 and includes two items from above list PLUS a 20 oz. bottle of pop or water. Single jumbo slices of cheese, pepperoni or sausage are available during lunch for $5.50.
A full catering menu that can be picked up or delivered within the delivery area.
The full menu, showcasing signature menu items and limited-time offers and specials, can be viewed online.
To unlock special offers and promotions, Fargoan's should sign up for Red's Savoy Pizza's loyalty program, Thank You Rewards. Thank you Rewards members receive $5 off their first order, $15 to spend the week of their birthday and other special offers and promotions exclusive to members like Appy Hour. Appy Hour is an exclusive daily "happy hour" where members can get a FREE app with the purchase of a pizza from 2-5pm.
General Manager Tamara Garrett is excited to welcome you to the new location. "Once you try our pizza you'll be hooked," she said. "We can't wait to meet you!"